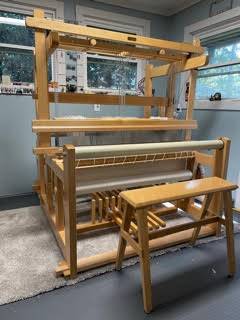 For Sale:
This beautiful loom was originally purchased in 1985 and has only had 2 owners. She's a real beauty and would make someone VERY happy!
Cranbrook is widely considered to be the finest countermarch loom available. Mortise-and-tenon construction allows for easy assembly, and countermarch means rising and falling shafts create a wonderful shed for weaving. Sturdy construction allows the weaver to create rugs as well as towels. Long warps are no problem on this loom!
Solid bronze ratchet gears, pawls, and beater hanger racks along with the actual brake handle are originals.
Two LED light strips have been added – one to the crossbar above the shafts and another on the beater above the reed – allow for extra lighting on your weave.
All original parts are included, although I have replaced the string heddles with Texsolv. The chains attached to the shafts can easily be replace if you want, as can the chains to the treadles. I'm including a roll of Texsolv and the pins to facilitate this adjustment.
Here's what you'll get:
* 400 Texsolv heddles
* 16 warp separator sticks (original)
* 1 pair of 47″ lease sticks (new from The Woolery 2021)
* 1 pair of 27.5″ lease sticks (new from The Woolery 2021)
* 1 49″ Raddle with 1″ separations (new from The Woolery 2021)
* 2 LED light strips that are connected to a single on/off switch mounted on the side
Reeds:
* 1 6-dent reed, 48″ length (Whitaker Reed Co)*
* 1 12-dent reed, 48″ length (Whitaker Reed Co)*
* 1 20-dent reed, 45″ length (LeClerc)*
* 1 10-dent reed, 48″ length, SS (I purchased this new)
Note – I don't know if the first 3 reeds are steel or SS, but I suspect steel because of the age
Books – Included are two of Joann Hall's Books along with the original paperwork from the original purchase.
Also check out the cool wheel platforms the original owner constructed. Just position those under the back of the loom and slide it back and forth.
Specs –
* Footprint is 53″x53″
* Weaving width is 48″
* Height of breast beam is 36″
* Height overall is 69″-72″
* Weight is about 380 lbs
Loom breaks down into parts that we transported in the bed of a pickup truck.
The original owner of this loom was an engineer who loved to weave. He wove many blankets and continued until he could no longer remember how to weave. I purchased this loom from his family in March of this year (2021). He kept all of the paperwork from his purchase, and it was passed along to me so I know the exact date at which the loom was delivered to him. I bought this loom so I could weave rugs; however (and realistically) where would I put them… And I have two other looms. I'm not parting with this one lightly!
SHIPPING – not included but willing to discuss depending on how far away you are!
Contact:
Joey Barnes
713-526-6680