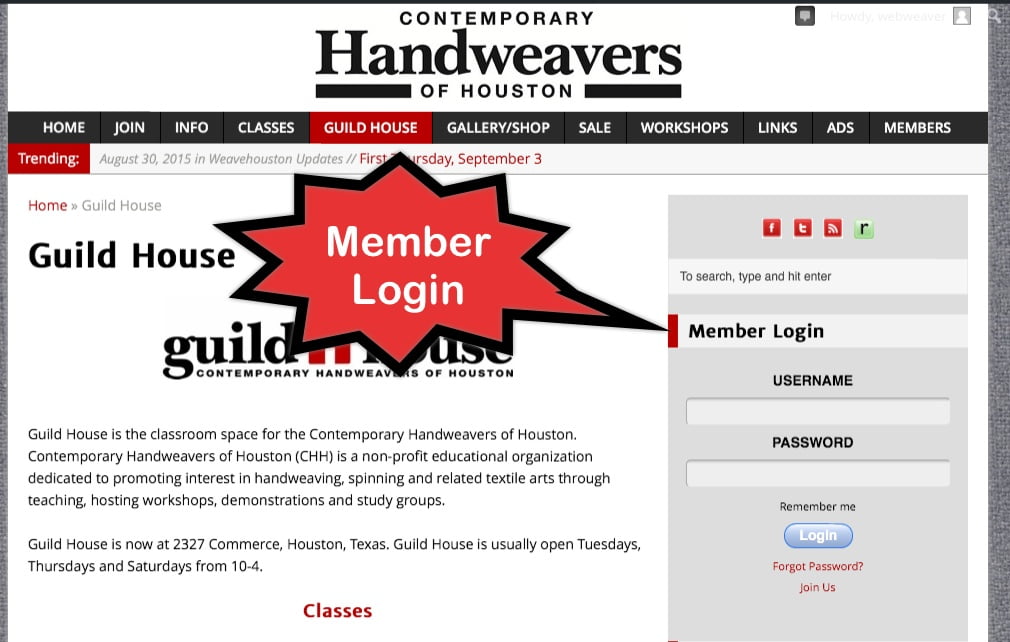 Membership sent an email reminder with your new login and password for the 2015-2016 membership year to use beginning today. As you use it, you will see a few revisions to the website related to the Member-Only Information.
Login:
There is now a login widget in the right sidebar near the top. It is a good idea to login each time you visit so that you can see all the members-only information on pages and posts (and the more often you use your password, the more likely you are to remember it!)
If you click a link to a password-protected page when not logged in, you will see a simple red Login text link to a popup login box. Also some of our documents are in a separate area of the website and might need you to enter your login and password a second time. If so, a box will popup for you to do so.
Member Menu:
The drop-down Member Menu links to:
Member's Only: Your main gateway to all of the member information on the site. It is a kind of Table of Contents to all of the Guild Information. It's worth a look. The right sidebar on this page has contact information for Board Members.
Directory: A menu shortcut to our Membership Directory.
FAQ For Members: Frequently asked Questions for Members
Handbook: This is the Handbook produced by the Membership Committee each Year.
Newsletters: a document that links to all the Guild Newsletters.
The Webweaver would love to hear your input about how our Member site can serve you better. Many of these revisions were prompted by suggestions made during last year, but there is always room for improvement.
Remember, Diane and I will be available at the Guild House First Thursday. September 3 – The Help Desk is Open from 10-1 to answer your questions about weavehouston.org.
Log In Now and view this post again to see what else it reveals to logged-in members only!