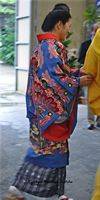 Join us at 7PM on April 21, 2011 for our monthly meeting. Scharine Kirchoff will present Ryukyu Weaving: Fabrics that Guard the Spirit.
From Scharine: The Ryukyu Islands (Okinawa), located in the western Pacific, consist of Japan's southernmost Prefectures. The Ryukyus are characterized by distinctly different natural and cultural features in comparison to other parts of Japan. Okinawan textiles, tightly woven into the cultural heritage of Okinawa are naturally distinctly different as well.
The craft of weaving and dyeing the textiles of Okinawa is passed down from generation to generation. I am a fourth generation Ryukyu weaver, and started my weaving journey in 2010 on Okinawa Island with the support of my family, and under the guidance of my 104 year old Oba-chan (grandmother), a Basho-fu cloth weaver. I invite you to join me as I share my personal journey at CHH's April meeting presentation: "Ryukyu Weaving: Fabrics that Guard the Spirit".
---