Our in person classes are on hiatus due to Covid 19.  We plan to resume in person classes in the Fall of 2021!
Classes are at Guild House 
Choose the classes you want to take and click Add to Cart to add them to your shopping cart. You can review your Cart at any time by clicking Go To Cart. For all the policy details, see the Guild House Policies.
Classes on Hiatus
Weaving Classes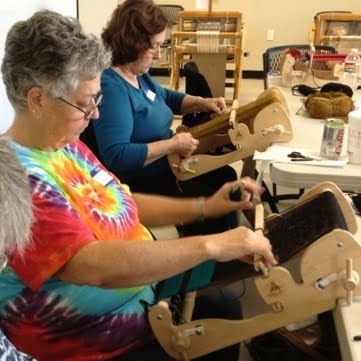 Introduction to Rigid Heddle Weaving
Have you wanted to try out weaving? Knitters and spinners this is a great stash buster. Rigid heddle looms are an easy and inexpensive way to try weaving. Everything including the loom you will use is provided for this class, just come ready to have fun! Students will dress the loom and begin weaving a scarf or table runner in class. Looms will be checked out and weaving will be completed at home.
Fee includes materials for sampler and loom rental.
Instructor: D'Anne Craft


Available Qty: 3
Summer Weaving Boot Camp
A summer only option combining Beginning Weaving I and II in a 5 day intensive class, perfect for teachers or college students to take on their summer break! Interested in learning to weave on a floor loom? This class is great for those who have never woven, have woven on a rigid heddle loom or need a refresher. Students will learn how to dress a loom (wind a warp, thread the loom), weave a twill sampler, learn how to read a weaving draft and plan a project. In addition each student will weave a color gamp on a pre-warped loom.
Fee includes materials for samplers and loom rental.
Instructor: Tracy Kaestner & Theresa Rogerson

Available Qty: 6
Spinning Classes
Shifu - spinning paper

Learn the basics of Shifu, spinning paper. In this class you will learn how to prepare and spin paper into a usable yarn. We will review what papers are best suited to Shifu and ways to deal with difficult papers. You need to be comfortable with spinning and how to operate your wheel or spindle.

Students must bring a spinning wheel or spindle, a spray bottle, plastic container and note taking supplies. Optional supplies - papers you want to test spin, drawing supplies to add interest to your paper.

* Note this is a wet spinning process and can affect the wood of your bobbin or spindle.

Good for all skill levels.

Materials included in class fee. Includes 2 sheets of 25" x 37" Thai Kozo Paper and a packet of shifu.

Instructor: Kyla Crawford

Available Qty: 10

Price: $80.00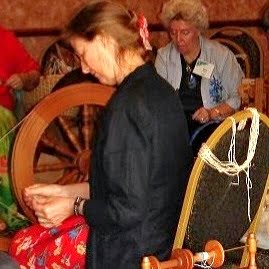 The Spin Doctor is In

Do you have a spinning problem you want to work on? Having a problem with your wheel? Did someone give you a charkha and you don't know what to do with it? Want to polish up a certain fiber or technique? If you have a problem we can help you with it. Bring your problem and your wheel to our ongoing "spin doctor is in" session. Guild wheels are available for rental.

Spin Doctor – Connie Elliott



Available Qty: 2

Price: $30.00
Learn to Spin

In this class you will learn to spin beginning with a drop spindle and advancing to a spinning wheel. Participants will learn the basics of producing yarn from prepared wool. Drop spindles and wheels will be available to use during class and can be rented outside of class.

Fee includes materials fee for spinning fiber.
Instructor: Lynn Williams


Available Qty: 5

Price: $60.00

GO TO CART
 If you selected any classes, review your cart below. When you click on the Check Out With PayPal button, you will be taken to a secure payment site at Paypal. You will be able to choose whether to use your credit card or a PayPal account. When you finish your transaction you will be automatically redirected to a page where you will provide some contact information for your instructor and information needed for your workshop.
---
Guild House Policies: Cancellation policy – To receive a full refund written notification to [email protected] must be received 2 weeks prior to the first day of the class. No refunds will be issued after 2 weeks prior to the first day of class unless there is someone on the waiting list to replace you. There will be a $10 processing fee on all refunds requested by a student. Cancelled Classes – A full refund will be given if a class is cancelled by the Guild House. Students will be notified when classes do not make. Non-Attendance – Please notify the teacher of the class 48 hours prior to the class if you will be unable to attend a class as a courtesy to the teacher. Returned checks – There is a $25 service charge. Materials Fee – Most classes have a materials fee in addition to the class fee. This will be collected on the first day of class by the teacher. Please be prepared to pay with cash or a check.
---