2022 Workshops
Workshop Feb. 18-20, 2022 by Deborah Silver
Break out of blocks with split-shed weaving. Weave curves and blend colors using continuous wefts on a 4-shaft loom with no special equipment. In this workshop, students will learn to weave multiple combinations of weave structures using only four shafts and a straight threading. Only tie-ups and treadling are changed between samples. Most of these combinations would normally require a minimum of eight shafts. Work with combinations of twills, summer and winter, 4-tie twill, Han damask, taqueté, double weave and more! Weave samples using continuous, complementary, and supplementary wefts, as well as wefts which combine to produce shading (color-blending) for pictorial weaving. (This is similar to the process Deborah Silver uses to create her art.) Students will also learn to make a cartoon on cloth that will advance with the warp and will not wrinkle when beating.Although students will not be able to complete all of the samples in class, they will leave with the ability to complete them at home with all of the drafts and instructions. Looms that allow multiple shaft tie-ups to each treadle are most preferable (and easiest for weaving), followed by direct tie-up looms. Table looms are acceptable but use a slightly slower process.Looms will need to be pre-warped with 8/4 cotton carpet warp. Students will provide their own weft yarns (Most students will probably have acceptable yarns in their stash.) Students will also need two 10" – 14" flat shuttles and one other shuttle of their choosing that will be comfortable to use with an 8 to 9-inch-wide warp.Some details:Students will need 4-shaft looms. Jack and direct tie-up looms are best, but table looms can be used as well. Your loom needs to accommodate a 10? wide warp. An 8 or 15 dent reed is needed.
Number of participants: Maximum 12Cost per person for 3 days including materials fee ($15) : $230
Please email Din regarding space before sending an initial registration fee of $100.00 by check (make it to CHH , write 2022 workshop fee) to Din at the address given below. Last day for cancellation with full refund is 15th January 2022. Waiting list will be maintained. A 4-page pdf document with requirements and instructions is available from Din,
dinakariyer@gmail.com
Dinakar Iyer
8106 Concho street
Houston TX 77036.
2021 Workshops
Online zoom workshop; 
Teacher
 : 
Denise Kovnat
Dates: April 16, 17, 18 2021
Weave structure
 :  
Echo and Jin: Variations on a Theme.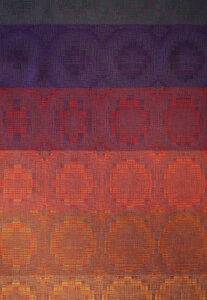 Fees: $125.00 total for 3 days.
Minimum: 12 participants and maximum: 15. (5 openings remain!). Will maintain a wait list.
Last date for cancellation with a full refund if paid : February 15th 2021.
Cancellation after 15th Feb 2021 if paid: $ 65.00
Description: Working with a variety of yarns, tie-ups, treadlings and setts, you'll weave a series of designs in Echo and Jin (Turned Taqueté). You'll explore color, using two to four colors in the warp and a variety of colors in the weft. And you'll explore design, trying different treadlings, tie ups and setts. For instance, by inserting tabby in your treadling, you'll weave Jin, which allows for additional designs and color combinations. Additionally, some designs have options for double weave patterns. This workshop is for intermediate weavers and beyond, for looms with 4 to 16 shafts (with the possibility of 24-shaft designs upon request). With drafts and warping instructions provided beforehand, you will begin the workshop with your loom dressed in a two or four-color warp using an extended parallel threading.
More info from Denise: 3 one-hour Zoom sessions per day over the course of three days. (That is, a lecture from 9-10 am, from 1-2 pm and from 4-5 pm, with people weaving on their own in between those sessions and able to contact me by phone or text.) All handouts and drafts and resource materials are available on a dedicated and secure Google Drive file. Everyone has their own folder where I encourage them to upload photos of their samples for group discussion. This is a valuable part of the workshop. Also, I need a working list of participants 6 weeks beforehand so that they can choose their drafts, procure their yarns and dress their looms.
Please send checks (to CHH) for $125.00 and mention Denise workshop on the check to Din's address given below.
Now only accepting names for the waiting list.
Dinakar Iyer
8106 Concho street
Houston TX 77036
dinakariyer@gmail.com
2020 Workshops
Turned Beiderwand: One Threading, Multiple Structures
October 10-12, 2020
 Teacher: Karen Donde
Due to the Covid situation, Karen Donde's "in-house" workshop will be changed to a live online / Zoom format on a new date of October 10-12.  All other details and registration information remain the same as listed below.
Turning a Beiderwand draft creates clean pattern blocks, better drape and faster, one-shuttle weaving than its traditional supplementary weft method. The resulting threading also adapts easily to weave other structures. Students will learn Beiderwand basics and how to warp and tension a supplementary warp with or without a second warp beam, design turned Beiderwand, turn a draft and adapt the threading to weave several different structures. This workshop requires at least 6 shafts. More are fine, as every 2 shafts provides an additional pattern block. Day 1 includes tying on and tensioning two warps in different methods. Then each participant weaves a variety of samples on his/her own loom, as that's the fun of turning this draft. There will be several different drafts on looms to offer a variety of designs for discussion. Drafts are matched to loom style and weaver experience. Intermediate.
Activities: Participants will bring looms with warps pre-threaded and beamed according to drafts and instructions I will provide in advance. I will assign each participant one of three methods for tensioning a supplementary warp independently from the ground warp. Each day will start with lecture, explaining concepts and theory in digestible chunks. Day 1, participants will finish tying on with demos of methods for tensioning supplementary warps. Remaining time will be spent weaving different samples with breaks for hands-on design lessons using weaving software, review of my samples, photos of my work in turned Beiderwand, a show-and-tell tour of participant looms and woven samples and individual help as needed. Day 3 will include a lecture and design exercise to demonstrate further the power of this threading system, also known as double two-tie.
Total class fee for 3 days: $210.00 per person. Please pay $100 as initial registration fee to book your seat. Send check (payable to CHH) to Din at address given below.
Minimum 12 people and maximum 16.  There are currently 4 people signed up for the class, so send in your deposit asap so that we can secure this workshop.
Level: Intermediate, students must know how to warp a loom.
Participants who have to rent a loom and or cannot access zoom from home, will be allowed to take part in the workshop from  the guild house. The number of people who want to avail this offer will be limited to five or six max. We will have at least 3 laptops available for zoom access. Strict adherence to maintaining distance from each other and wearing  a mask is a must.
Loom requirement: Either table or floor looms with at least 6 shafts.  Four Baby Wolf (8 shafts) and two Louet Spring (8 shafts) looms are available for workshop rental.  Please email Donna Sanner sannerdonna8484@outlook.com to reserve your CHH looms for the workshop.
Dinakar Iyer
8106 Concho street
Houston TX 77036
Wondering how a Zoom workshop will work?  Here is a little information that should help you understand.  If you have more questions please contact Din (dinakariyer@gmail.com)or Tracy (tkweaver1@gmail.com).
Your loom will need to have the warp beamed, threaded and sleyed prior to the beginning of the workshop.
Workshop hours will be 9:30 am – 12:00 pm and 1:00pm – 4:30 pm.
Live sessions will be held daily 9:30 am – 11:30 am and either 1:00 pm – 2:00 pm or 3:30pm – 4:30 pm.  Specific times will be sent to participants prior to the workshop. Morning sessions will be lectures, slide shows etc… Afternoon will be a combination of lectures, slideshows, Q&A sessions and on the final day a tour of the "room".
When not actively engaged in live sessions Karen will be available in the Zoom room for live video help.
A private FaceBook group will be set up for sharing pictures, comments and questions.  This will be available for two weeks.
Karen will send "real" samples that will be housed at the Guild House for the week before and after the workshop.
Handouts will be sent as PDF digitally to each participant.  You can print if you want to.
On demand videos will be available on: warping and using two warp beams and tensioning the warp off the back of the loom.
Tracy Kaestner
Lone Star Loom Room
1-888-562-7012; 281-497-3997
www.lonestarloomroom.com
2019 Workshops
"Explore four harness Rosepath" – Rosepath using rags
November 15-17, 2019 at CHH Guild House
Teacher: Nancy Crampton
2 Spaces Left
Total class fee for 3 days: $170.00 per person. (see note below)
Materials fee: $10.00 per person (includes cloth strips for samples and handouts)
Level: Intermediate, students must know how to warp a loom.
Loom requirement: Either table or floor looms with 4 or 8 shafts. Threading directions will be provided later. (NO RIGID HEDDLE looms)
CHH looms can be rented for this workshop and contact Donna Sanner (equipment chair) Sannerdonna8484@outlook.com
Workshop overview from Nancy: Love weaving rag rugs but ready to try something other than plain weave?  We'll discuss other suitable threadings including monk's belt, Ms and Os, double-faced twill, summer and winter, undulating twill, rosepath and crackle, using both rug and table-linen weight fabric strips. Full-size rugs and samples will be available in each weave. Discussions include what makes a rug successful, calculating fabric for a project, cutting strips, and ways to join strips.
Note: Please make a check for $170.00 payable to CHH and mention "Rag rug weave workshop". Mail the check to Dinakar Iyer (address below).
Dinakar Iyer
8106 Concho Street
Houston, TX  77036
Beware: If you cannot make it to the workshop and if no one can take your vacant seat, you will get only $ 85.00 refunded to you and not $170.00 (CHH policy). Also, if we do get 14 PAID participants, the $10.00 materials fee will be deducted from your class fee of $170.00. Any further question's-contact Din dinakariyer@gmail.com.
2018-2019 CHH Workshops
Warp Ikat Workshop: Weaving and Dyeing
Daniel Garver
February 28 to March 3, 2019 (4 days),
The workshop will be held in the Guild House,
Total fee is $225.00 per person.
Level – Intermediate. No prior experience in ikat is required, but students must know how to warp a loom.
Daniel's work may be seen in the Asher Gallery at the Houston Center for Contemporary Craft.
Class Description:
In this workshop Daniel will cover the basics behind ikat. To start the workshop he will present a slide show of ikat samples from various cultures around the world to familiarize paticipants with  the aesthetics and potential within the process. He will also cover basic tools and equipment used as well as tools he has designed for his own process. Basic design techniques to create resist dyed warps will be covered and basic drafting techniques for loom control structures to interact with the ikat process in visually dynamic ways, Participants will work together to dye several warps, so each participant can walk away with ikat samples of different designs. Other topics will be using a "dummy warp" for registering the pattern and basic introduction to weft ikat – using one of the looms to sample double ikat – a process that is finicky and time consuming so it will be covered as a group, allowing each participant to try out the process.
The cost for the 4 days will be $225.00  plus a materials fee of $33.00  given at the work shop directly to Daniel.
Maximum number of participants will be 15.
A deposit of 1/2 of the work shop fee or $ 125.00 is due when you register for the workshop.
Image from his website – http://www.danielgarver.com/
Workshops History
Molly Koehn Workshops
Molly Koehn will be teaching Eco Printing and Bookbinding. Molly is an artist in residence at The Center for Contemporary Crafts. These two classes will be on April 28-29th, 2018.
Eco Printing is a one-half-day workshop on April 28 in the morning – 9 am to 1 pm. Cost for Eco printing is $62.50 per person including materials. Minimum 8 people, maximum 15 people.
Bookbinding is a two-half-days workshop from 2 pm to 4:30 pm on April 28 and 29. The book cover will be made on the first day and must dry overnight. Binding and stitching is done on the second day. Cost for Book Binding is $ 82.50 including materials. Minimum 8 people, maximum is 15 people.
ECO PRINTING
Eco-printing is a natural dye process that uses leaves to create prints on fabric. The leaves are bundled tightly in the fabric, and the bundle is then steamed. This process creates almost exact prints on the fabric from the leave's pigment. This workshop will go over techniques to get the best print possible and will also cover mordanting to create color variations. Participants will experiment with printing on silk and wool/silk blend and are encouraged to bring other materials to work with.
BOOK BINDING – COPTIC
In this class, participants will learn how to bind their own journal or sketchbook using multiple-needle coptic stitching. Coptic is one of the oldest forms of bookbinding, dating back to the 2nd century. It is sturdy, and the technique creates a beautiful braid on an exposed spine. In the first session, we will create the covers and fold the signatures, and in class two, we will bind everything together. At the end of the class, you will have everything you need to make more and more books!
To sign up for either or both workshops, send a check for half the total price to Workshop Chair Fern Handler, 2203 Turtle Creek Drive, Missouri City, TX 77459.
Fall 2018 Workshop
Double Rainbow – October 19, 20, 21, 2018.
2 Layers, 4 Shafts, 6 Colors – Endless Possibilities.
Now also with 2 blocks on 8 shafts!
The ultimate color sampler! You will begin by winding a warp and setting up your loom according to Jennifer Moore's system for working with multiple colors in a rotational sequence and bringing it to the workshop. A basic two-layered structure will enable us to mix and match our colors, creating an amazing array of color mixtures. As you weave and your warp colors move past each other you will experience a visual feast of iridescence and moire patterns. We will also experiment with single-layered structures such as warp rep and warp-faced twills and the effects that they create on this versatile warp. This sampler will provide a remarkable education in color theory and how optical mixtures work in weaving, as well as a great source of inspiration for future weaving projects.
Level- Intermediate. No prior experience in doubleweave is necessary, but students must know how to warp a loom. Students will bring a 4- or 8-shaft table or floor loom warped according to instructions.
Material fee- $10 per student
Maximum- 20 students
Student supplies –
4-shaft or 8-shaft table or floor loom
8- or 10-dent reed (8-dent is ideal)
2 boat shuttles
6 bobbins, extras if possible
5/2 perle cotton in specified colors
6 colored pencils or markers to match your yarn
To sign up for this workshop, send a check for half the total price (workshop is $184 – deposit is $92.00) to Workshop Chair Fern Handler, 2203 Turtle Creek Drive, Missouri City, TX 77459.

A Linen Workshop with Jetta Vandermeiden

January 19-21, 2018
at the Guild House

This workshop is about learning to manage linen and how to wind a linen warp, dress the loom and use it in weaving.
Jetta stressed that you will NOT have a finished or almost finished piece at the end of the workshp, but you will learn a lot! Weaving does not start until the 3
rd
day. Participants will warp enough to
produce a lovely finished set of hand towels that they will finish weaving at home after the workshop is over.
Jetta will package all the yarns when she arrives. Jetta thinks the yarn cost will be
about
$
40.00 each. That is
in addition
to the workshop fee. The cost of handouts will be included in the fee.
Cost:
There will be a minimum of 12 participants and a maximum of 15 because as you can see there will be a lot going on.
The cost for the
three day workshop will be $215.00 plus the linen supply fee.
Deposit will be $107.50. Deposits are due by December 8, 2017. Send deposits to Fern Handler.

Equipment needed for the workshop:
1.  Looms – all looms (except rigid heddle) are possible for this class.  Preferred would be a small floor loom, with counterbalance being better than jack.  However, table looms with jack or lift system, direct tie looms, floor looms of jack style can all be used.  We are learning to put the best possible warp on each of these types.
2.  Warping boards are MUCH preferred to warping mills.  But again, we make the equipment work to suit our needs.
3.  Boat shuttles (low profile better than high profile) and bobbins, or damask shuttles and quills.  No end feed shuttles for this class.
4.  Reeds of different sizes.  Most used will be 8, 10 or 12, depending on the linen used.  As we are using all different sizes and types of linen a variety of reeds is good.  It is VERY useful to have on hand several reeds of size 5 or 6 as well, as we need these for pre-sleying.  They are not essential, but preferable.
5.  If someone has a warping trapeze, this would be useful.
As people sign up, please have them state the loom they are bringing, how many shafts it has and what their preferred yarn size is. (They can use a cotton count for sizing yarn such as 10/2, 8/2, 20/2 as linen sizing is different and participants may not be familiar with these sizes.)  Once Jetta knows which looms are in the class, she can determine who gets what weave structure and the linen size they will be working with.  Hence it is important to get this info to Jetta asap as possible so that Tracy has the proper sizes available.
2017-2018 CHH Workshops
Felting Workshop
Barbara Attwell
May 6 – 7
9am – 4pm, with a lunch break
Professional artist Barbara Attwell will lead a wet felting workshop that both introduces and reviews the basics of the process, along with advanced techniques such as complex resists for 3D felting, creating textures, making and attaching shapes, using prefelts, and making cording and balls. A comfort level with fiber or felting is encouraged. Cost for the workshop is $225, plus a materials fee.
Workshop includes a Wall Hanging and a 3D Vessel. We will learn layout, various rolling techniques, the use of silk, bamboo, and stash to add texture, and resists to create pockets, the use of prefelts and Shibori,  seamless felting, simple and multiple resists to create cavities, complex resists to add more shapes, and to make and attach ropes, stems, and balls.
Questions? Email Barbara Attwell  battwella@gmail.com
 THE FOLLOWING CLASS HAS BEEN CANCELLED DUE TO HURRICANE HARVEY
PAINTING ON SILK FABRIC
INTERMEDIATE & ADVANCED TECHNIQUES

Three-day workshop for CHH (9:30 a.m. – 4:00 p.m.)
September 22-24, 2017
Guild House

Using dyes from France and silk cloth from the far East, participants will explore different techniques to achieve color, texture, and pattern. Salt and alcohol will be used to experiment with free-form, abstract color mixes and water-based 'serti' resists will be used to implement realistic images. Additional techniques, including wet-on-wet, line building, blending and shading and treatment of the silk to reduce the flow of the dye will be demonstrated. Students will also learn how to incorporate wax techniques into silk paintings. Brushes, tjantings, and stencils will be used to apply soy and beeswax to the silks.
Methods for preparing and stretching silk for painting and the steam-setting process for fixing the dyes will be demonstrated. Participants will create multiple pieces using the various techniques.
Most materials will be provided; a supply list will be provided upon enrollment. No previous dyeing experience is necessary.
Class size – Minimum 8 students; Maximum 14 students
Instructor fees: $325 per student, includes all supplies and materials for use in the workshop.
Total cost for the workshop will be $365.00 Deposit for the workshop will be 182.50  Due by August 7, 2017
Please remember to get your deposit in for this workshop by August 7th, so Nadia will have time to order the silks and other supplies
---
Our regular classes are on our Classes Page.
CHH workshops are planned approximately one year in advance of each workshop. We work to provide stimulating and fun workshops that also provide value to our membership.
Workshop Fee Information
*Note: CHH workshop deposits are forfeited (non-refundable) unless there is someone to take your place in the workshop. But it's sooo much more fun when you can attend :o)
---