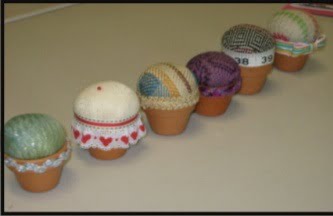 Bring your creative talents, a sense of humor and a few supplies. We are going to make Pincushions (with personality) for the 2013 Contemporary Handweavers of Texas Conference.
There is a long standing tradition for the biannual conference. Guilds across Texas make a item for the conference goody bag and for table favors. As weavers we love to receive something that is made from handwoven fabric, it doesn't have to be huge, we ooh and aah over a small item that is an interesting structure, fiber content or color. If you plan to attend or not to attend you will be contributing to the success of the Texas Handweavers Conference.
Supplies you will need:
Handwoven fabric (5 inch square) and extra to share
Sewing needle
Thread
Glue gun – if you have one
Fiber Fill – if you have a bag you may never use in the next few months
Scissors
Embellishments
Remember, CHH's pin cushions will have personality!
If you are a non weaver we will have fabric for you, so come and help!