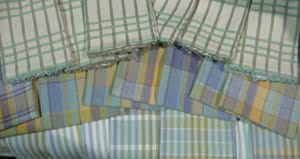 Just one week until the Contemporary Handweavers of Houston Artisans Market, September 6 -8, 2012 at the Houston Center for Contemporary Craft.
Our members are busy weaving, spinning, basket making, beading and other related activities to get a huge variety of items ready for sale from tree ornaments to scrumptious scarves and runners. My favorites are the handwoven towels. They are affordable and beautiful and a way to casually share your love of handcrafted items with your guests.
*These towels woven by Julie Karlsson, Tracy Kaestner, and DeeDee Woodbury.
---