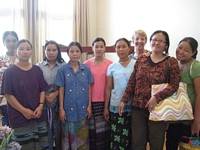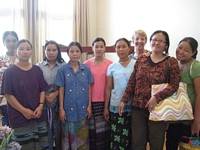 CHH recently facilitated a tour for Community Cloth, a non -profit microenterprise effort to help refugee women from Burma, Bhutan, and Nepal now living in Houston who are trying to make a living by creating handmade knitted and woven items to sell locally. Their co-founder responded to the tour with a lovely thank you note and some photos! See more photos.
Dear All,
Thank you so much for a wonderful Community Cloth field trip out to Katy today! The artisans thoroughly enjoyed the experience.
Julie, thank you so much for hosting us at your lovely home and showing our ladies your beautiful looms and thread store. Gerry, thank you for hosting the equipment "show-and-tell" at the storage facility. Mary and Donna, thanks for setting up the connection to your friends at the Contemporary Handweavers of Houston! We are grateful for your generous offer to help with specific "needs and wants" of the weavers, and we hope to host CHH out at the women's weaving workshop sometime soon too.
Sheryl, thank you for allowing our knitters to "invade you space" and browse Yarntopia – what a lovely shop. Many of the women remarked on the quality and diversity of the yarns you carry – it was educational for them. We can't wait to see your blog piece on our visit today, and hope to stay in touch!
And of course, thank you to our very dedicated volunteers for transporting and accompanying the artisans! I've attached some photos of the day, and will also post these and highlight CHH and Yarntopia on our Facebook page. :-)
All our best,
Quynh-Anh
Co-Founder/Co-Facilitator
The Community Cloth – a microenterprise empowering refugee women in Houston