Houston Area Fiber Artists Garage Sale!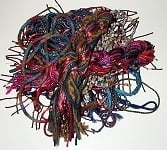 Couture fabric yardage at garage sale prices and lots of other fiber related items: notions, patterns, books, embellishments, beads, yarn, buttons, trim etc. etc.
BUT not just fiber!
There will be lots of the usual as well as the unusual items for sale: garments, shoes, some brand new, never worn! : dishes, tables, glassware, figurines, jewelry, clocks, hats, some antique ones too!
SATURDAY, April 13th
Check out the HAFA website for location and time.