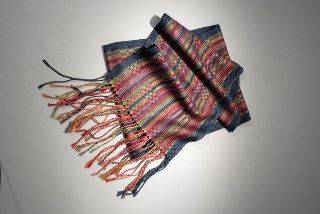 Olga Tarasova got Best in Show! Congratulations, Olga!
Check out Charlene Kolb's Scarf, works by Lynn Williams, Olga Tarasova, Gerry Woodhouse, Marian Carlson, Scharine Kirchoff, Leisa McCord and other artists at the Interwoven III Exhibition at 18 Hands Gallery in the Heights.
[NOTE: If you are a CHH Member in the exhibit and don't see your name here, let me know so I can add it,] Opening Reception: Saturday, October 22nd, 6-9 PM. Exhibition continues through November 4, 2011.
18 Hands Gallery website. See their Interwoven III Album on Facebook. Our own Gerry Woodhouse also provided photos for our Interwoven II Web Album.
---