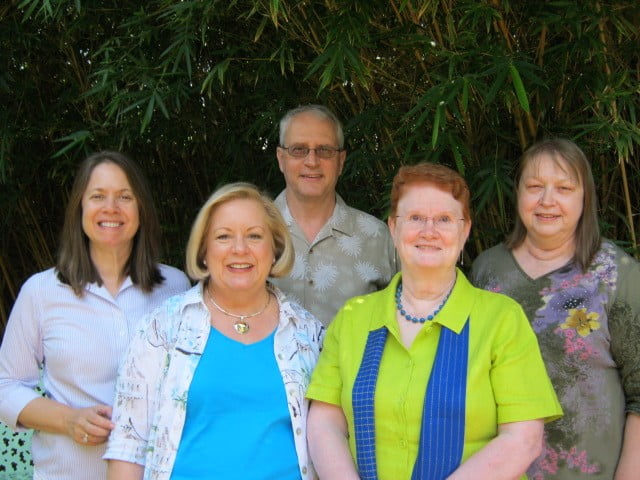 The CHH Study Groups have great fun learning new things. Here's a report from Scharine Kirchoff about the Westside Weavers and Spinners (WSW) Study Group:
This year, we, the CHH Westside Weavers are studying Ikat (eeh-kaht) textiles followed by planning our own handwoven cloth…

Connie and Lisa study traditional Kasuri Ikat patterns of Okinawa
On some Tuesdays we trek out yonder to Penny's dye studio and dye our resist-tied skeins in indigo broth ….

Pat considers another dip of her skein in the indigo pot

Cheryl's resist-tied and indigo dyed skeins
Some of our members keep a scrapbook documenting the journey… hey, did you know that Rosemary dries her Ikat skeins on a tomato cage gurney?

Rosemary documents her project in a scrapbook
And we sample, sample, sample as us weavers do… and, wouldn't you know it? Dottie finished her sample first too!

Dottie shares her Ikat sample with the study group
Please stay tuned for more fun with the Westside Weavers and Spinners please do… and, consider weaving, spinning and dyeing with us… woo hoo!
---