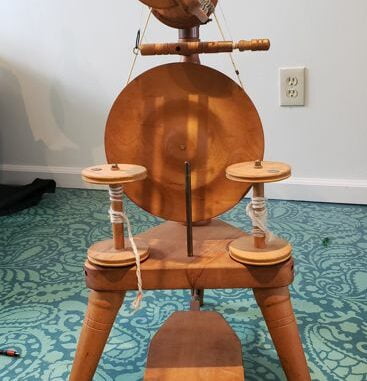 Peacock Spinning Wheel $400
For sale is a Peacock upright wheel made in New Zealand in the early 1980's by Mr. Fomotor.  It is made of New Zealand Rimu wood.  This wheel has all its original pieces, including the original drive band, which works fine.  This has been a gently used wheel by both me and the original owner.  It needs little maintenance other than polishing the wood.  The flyer and main shaft run on sealed-for-life bearings that do not need oiling. I only put a drop of Super Lube on the crank assembly and flyer shaft at each spinning session.  There are no cracks, and the drive wheel is not warped.
If you're interested in the history, you can read more here:  https://nzspinningwheels.wordpress.com/peacock-wheels-timeline/.  I'm selling this little gem to "thin the herd" a bit, since I find I'm not using it as much as the others.  It was originally purchased for taking to spin-in's since it is so easy to transport.  It has an orifice height of approx. 24″.  Just buckle it into a seatbelt and it is ready to go.  It has a build-in bobbin holder that can be used as a Lazy Kate, in a pinch.  It is easily dismantled using the wingnuts if you needed to put it in a bag for travel, but I must admit that I've never taken it apart.  The bobbins hold at least 4 oz.
The weighted drive wheel and pulley have three speeds to allow you spin just about any weight of yarn, and the weights in the drive wheel give it some extra momentum to make it easier to treadle. It is a single treadle wheel, and since it is an upright wheel it can be treadled with either foot and is suitable for left or right-handed spinners.  The base sits on three legs so you don't get any wobble when treadling.  It does not have a traditional orifice, but a long hook instead.  This makes it super easy to thread and you don't need an orifice hook.
For more info or photos, email Theresa at [email protected].  Pickup only.