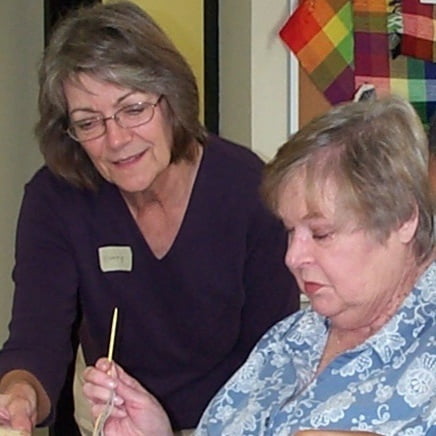 Gerry Woodhouse has an item accepted in Small Expressions 2013, HGA's Annual Exhibit of Small Scale Works. The Tapestry Study Group got a peek at her Big Bend Post Office. Gerry used an inlay technique, with ground warp and weft of fine linen, and inlay yarns of natural grown brown and green cotton from Sally Fox and hand dyed indigo cotton in sky. Two other Texans are among the 31 artists in the exhibit.
Small Expressions 2013 opens June 1 at the Fine Line Creative Arts Center in St. Charles, Illinois, with a reception from 5:30 p.m. – 8:00 p.m. in the Kavanagh Gallery, and a gallery talk by juror Laura Foster Nicholson at 7:00 p.m. "These skilled artists employ a variety of traditional and non-traditional media creating an outstanding presentation. Nicholson noted in her juror's statement: "The crafting demanded at such a reduced scale must be immaculate—larger work is more forgiving. The scale of threads is more crucial [and] the fineness of edges more exacting."
Sounds like it suits our Gerry to a "T"!
Exhibit to be featured at the Fine Line Creative Arts Center, St. Charles, Illinois, June 1 – September 7, 2013. For a complete list of artists and more information on Small Expressions, check out their Press Release.