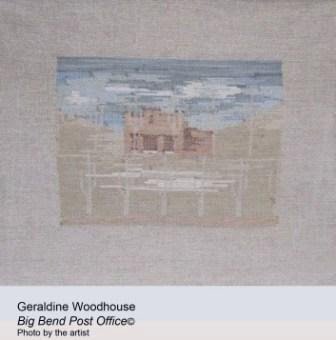 Small Expressions HGA Award
Gerry Woodhouse
Katy, Texas
Big Bend Post Office, 2011
Sixteen-shaft summer and winter figural pattern woven in tapestry.
Linen warp/ground weft; naturally grown Foxfibre® cotton, hand-dyed indigo cotton, hemp.
15 x 15 x .25 inches
Photo by the artist
See other Small Expressions Winners on the HGA website.
Small Expressions 2013 is on view at The Fine Line Creative Arts Center, St. Charles, Illinois, through September 7, 2013.